Healthy Tips
Home Discovering Design Services Healthy Tips My Story Interviews Contact Me
These tips are collected from Human Design trainings, primarily from Ra Uru Hu and Martin Grassinger. You'll recognize a few that have evolved as universal wisdom over the ages. They all change you at a cellular level.
They are simple.
They are powerful.
Do you want to try them?
You become healthy when you start living your true nature.

Follow your strategy and authority.

Honor your authority - "correct decisions are the best medicine" as spoken by Ra.

Express gratitude in your own way: write it, say it, think it, paint it, plant it, sing it, dance it, laugh it!

Do only those things that bring you great JOY.

Laugh if you feel like it!

Before beginning anything, come from an internal place of quiet, calm joy for what you will do.

Accept your limitations. You're human. You're not designed to do everything, and if you try, it can make you sick.
Do you want to be healthy?

Sleep alone.

Wear what's comfortable for YOU, not what your well-intentioned friends and make-over artists recommend!

I offer Primary Health Strategy (PHS) Overviews.

Remember, health always moves forward, not backwards.
I invite you to email me at
becky@humandesignforyou-dot-com
with corrections, suggestions, advice & positive comments about this web site.
*Jovian Archive Corporation is the International rights holder to the Human Design System, the Global incarnation Index, MMI Software and the Teachings of Ra Uru Hu. Copyright protected 2005. www.jovianarchive.com. The Rave BodyGraph™ and Rave Mandala™ are registered trademarks of Jovian Archive Corporation.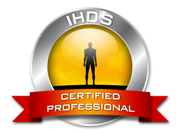 Look for this logo to indicate an authorized, certified IHDS professional.
Born 8/1/05. Last modified: 03/02/17